Above image has been scanned by myself.
Referring back to the Beauty Scene Investigation which i posted few days ago.
A series of murders have occurred in Beauty County! Many beauties were being brutally killed and I was called on to make a trip down to join with the investigation.
So many Beauties located at the different areas in Beauty County have become the helpless victims!!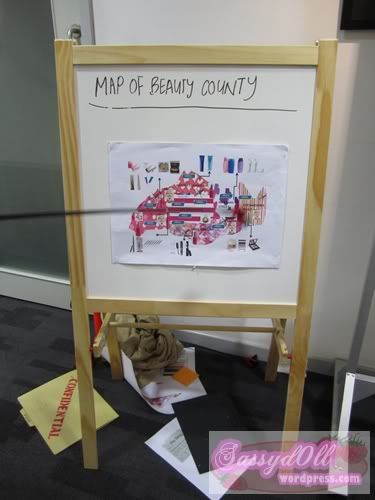 Here are some of the clues and evidences found at crime scenes.
Together with the rest of the Beauty Investigators, we headed to the crime scenes.
Psst, confidentiality applies here, Sssshhh!
Entering….
It was very dark inside, we had to light up the place using our mobiles, cameras and torchlight.
We had to becareful of radiation too! (>.<)
Huge mess inside and I almost knocked down a table!!
Looks like a real big fight has taken place with no mercy shown!
Crime Scene [1]… at Hair Care Street…
Goodness, the blood and cuts! Eeeeks!
Crime Scene [2]… at Facial Cleanser Avenue…
Bloody scene! See the chipped off nails? Ouchhhhh!
Crime Scene [3]… at Base Boulevard…
Disgusting! The blood smudges and messy prints! Poor victims!
Crime Scene [4]… at Eyeliner Close…
Crime Scene [5]… at Mascara Lane…
Fierce murders must have taken place here! See the bloody prints of the victims asking for help?? Bloody palm prints!!
At this Mascara Lane, gosh!! oh my God!! the eyelashes!! Looks so painful!!
Who the hell will actually pluck off the eyelashes?!
Crime Scene [6]… at Eyeshadows Road…
I don't understand!! Eyeshadows are so beautiful and can do wonders to our eyes, who will want to have them murdered?? Horrible!!!!!!! :O
But, phew, we have survivors!
Due to the skin-loving characteristics of these survivors, they managed to escape from the evil clutches of the serial killer!
All of them are now being placed into a safe haven, very well-protected!
Dahhhhh dahhh dah dah!!
Let me go through with you, the case files of all these victims.
All thanks to their individual characteristics that they have survived the ordeal!
♥♥
First survivor to mention is….. Za Skin Beauty 2-way Foundation!

Photo extracted from one of my earlier blogposts.
Having the age of 13 this year, its fine powder has never failed to capture the heart of its fans. It is able to achieve smooth and flawless skin, giving radiance and glow, and ensure hydration in the skin with its Hyaluronic Acid.
Its skin-loving characteristics like Vit E and minerals help to nourish the skin, while its non-comedogenic and hypo-allergic properties ensure gentleness to the skin.
Comes with SPF20 PA++, available in 8 shades.
Retailing at SGD18.50 for the refill pack and SGD9.90 for the case.
♥♥
Next to survive is…. Za True White Plus 2-way Foundation.
This is my best drugstore foundation so far! With my oily t-zone and dry patchy cheeks, Za True White Plus never fails conceal them! It is extremely good for touching up as and when I like!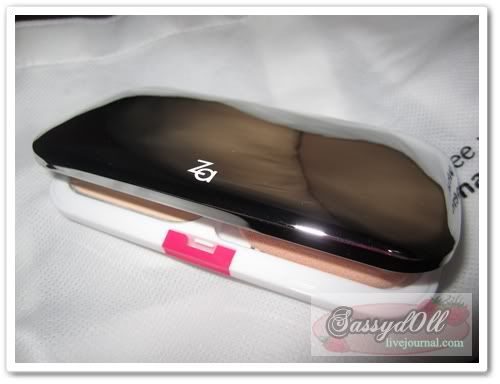 Photo extracted from one of my earlier blogposts.
Despite only as young as 5 years old, it is now the No.1 Selling Whitening Foundation at Watsons stores! woah! *IMPRESSED*
It contains spotless brightening powder which helps the skin to look bright and lunimous with a natural glow!
Contains Whitening C ingredient to lighten pigmentation and acne scars.
Also contains Vit E and minerals to keep the skin nourished!
Comes with SPF20 PA++, cost SGD20.50 for the refill pack and SGD9.90 for the case, only at watsons.,
♥♥
One of the star products from Za-cosmetics, Concealer Perfection. I have been using this like almost everyday, very good with freckles and dark circles!
Available in 3 shades and is retailing at only SGD13.90!
Being able to survive for 6 years, you can be sure it is really living to its promises!
Its promises:
:: Long-lasting coverage
:: Corrects uneven skintone
:: Conceals redness
:: Minimize visibility of scars and pores
:: Blends easily without clogging pores
♥♥
Another No.1 Best Selling Eyebrow Pencil is the Za Eyebrow. Celebrating her 5 year-old birthday this year and comes in 3 nice shades, Black, Brown, Reddish Brown.
This is my spare eyebrow pencil in my cosmetics pouch because it gives a natural eyebrow look and is a 2-in-1 item. Why 2-in-1, is because it has a special applicator which requires no sharpening and has a brush attached at its end to tidy brows at my convenience.
The most important point is it has a balanced formula of non-sticky oil, pigment & wax which helps to keep the drawn eyebrow long-lasting.
Only SGD11.90, no harm to keep lotsa these as spare!
♥♥
And… my top cosmetics brand from the drugstore, Majolica Majorca!
The all-time favourite liquid eyeliner, Perfect Automatic Liner, from Majolica Majorca!
:: Smudge-proof!! No worries with oily eyelids.
:: Sweat-proof!!No worries about eyeline being faded.
:: Water-proof!! No worries when crying at a movie.
This is a good liquid eyeliner even for newbies to eyeliner!
Its felt tip is of soft pointed bristles, very gentle to the skin during drawing. Fine line is easily drawn, more strokes can be added to achieve a thick bold line.
Retail price is SGD22.90.
With all the above good characteristic, everyone can have dolly bigger eyes!
♥♥
To further frame up the eyes, mascara is a must! For me, eyeliner and mascara is a pair, they must come and go together!
The Lash Beautifying Mascara Frame Plus is here to pair up with the Automatic Liner!
Well-known for its lengthening (jet black fibers) and its "proofs"!
Proofs? What's that? Heh, they are the waterproof, oil-proof, sweat-proof!
Its unique coil and comb wand, its gentle ingredients (Vit E and Macadamia Nut Oil), add up to its wonder and reason to survive for the past 2 years!
Retailing at SGD25.90, at Watsons.
♥♥
As the saying goes, "eyes are the window to the soul". Yep, gorgeous eye colours from Majolica Majorca are one of the beat-selling quad eyeshadow at Watsons!
They have the ability to transform eyelids into jewels!
Comes with a mixture of translucent pearls of diverse sizes glitter from every angle.
Retailing at SGD27.50.
They have been around for 2 years, available in 12 sparkling palettes.
Each palette has got 4 complementary colours to achieve a day and night look!
♥♥
I totally dig these blushers! They are gorgeous! Oh yah, they are from Chaper 30, Sugary Trap Collection!
♥♥
One my favourite drugstore skincare, Aqualabel! Strongly recommended for those who want to achieve good skin with affordable prices!
What is the best product which can be used daily to maintain a good skin with fairness?
Aqualabel White Foam cleanser is the one!
It's the best-selling whitening cleanser at Watsons despite it has only been around for a year!
Retailing at SGD16.90, with all the good ingredients (White Clar Powder, Hyaluronic Acid, Moist Aqua Keeping Base) inside, you can be sure to have moisturized skin, looking fair and clean all the time!
♥♥
Finally we have the haircare from Tsubaki, which is one of the survivors from the series of murders taken place! Hurrayyyyyyyy!
Tsubaki is a luxurious haircare which comes in 2 ranges!
Red series – Shining range
White series – The Damaged Care
Characteristic of this Damaged Care range,
:: Achieves beautify & shiny hair
:: Support from inside & evokes a radiance from deep within
:: Radiate with shine from roots to tips
:: Repairs damaged & brittle ends
Tsubako Damaged Care is the Best Damage Care Range selling at Watsons.
Hair Shampoo – SGD9.90 (220ml), SGD18.90 (550ml)
Hair Conditioner – SGD9.90 (220ml), SGD18.90 (550ml)
Hair Mask – SGD21.90, available in only 1 tub size, 200g
♥♥
Being one of the selected beauty investigators in this murder mystery, I was awarded with a bag of survivors, to bring them and have them protected in my own safe haven!
Now that everyone is safe and sound, it's time to party and celebrate their survival and safe return!

Above image has been scanned by myself.
Here's the treat for you!
It's all about the discounts you can get when bringing home the survived beauties from Za-cosmetics, Aqualabel, Majolica Majorca, Tsubaki!
At the end of the investigation, we all brought into a room, and were having fun decorating our foundation case with blingbling!
Coming up at selected Watsons stores, on Za-cosmetics shelves, there will a special Skin Beauty Packset which consists of a decoration sticker and a free class of you of your choice! With the stickers, you can bling up your foundation case!
Here's mine! I have chosen 'Alice in the Wonderland' Sticker pack.
I also have the True White Plus 2-way foundation casing and bling it up with the remaining stickers!
Our fun was not yet finished! We  were treated with a nice dinner at Empire State @ Illuma.
Empire State serves huge portion of western food! Yes, mainly like those American foo! New York New York is under the same management with them!
Burgers, pizzas, pastas and desserts are all on the menu of Empire State!
We could hardly finish our food!
Mushroom soup tasted delicious!!
I had fish as my main course. Fresh and lotsa mash potato! Do not be deceived by my photo, this main course is really in huge portion!
The house's specialty, Chocolate Brownie!
I tell you, this is bagus!! Extremely good and you'll melt all over! But becareful, the brownie will be hot at its bottom!
We didn't had just food alone, we had a live makeup demo while having our meal, and we also get to enjoy a FREE makeover using makeup products from Za-cosmetics and Majolica Majorca, all happening at Empire State @ Illuma!
I did get myself a makeover, and I am proud to showcase you my pretty eye makeup!
Pretty teal eye colour which I chose from Majolica Majorca quad palette!
More colours available for you to choose from!
Here's another treat for you!
For the month of August, you'll get to enjoy a FREE makeover when you dine in at Empire State @ Illuma!
So c'mon, make appointment with your girlfriends, catchup with one another with a get-together a meal and have fun with makeup at Empire State @ Illuma!
More details at: